Get the Look, Ditch the Wax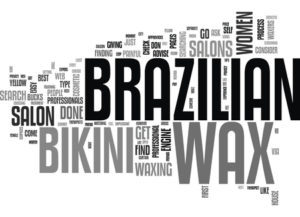 The Brazilian, a look many women want, but shy away from because of the fear of waxing such a sensitive area. A Brazilian look also comes with its fair share of upkeep since waxing hairs in the pubic area is the same as any other area – it eventually grows back, which often brings itchiness or a five o'clock shadow before your next waxing appointment. What is the ultimate solution to having the perfect, permanent Brazilian? Four words: Brazilian laser hair removal.
No more painful waxing "down there." No more trying to reach hard-to-reach areas yourself. No more itchiness during regrowth and no more less-than-attractive pubic stubble. A Brazilian laser hair removal for the pubic area is no different than laser hair removal on other areas of the body, like your arms, legs and face. However, like other body areas, achieving hair-free results will take several appointments spaced approximately four to six weeks apart to accommodate hair follicles' growing cycle. With each appointment though, hair in the pubic area becomes sparser as the laser destroys the hair follicles.
Is Brazilian Laser Hair Removal the Right Way to Go for You?
There are women for whom the Brazilian look will eventually pass, and there are those who can't imagine going through life any other way. How you feel about the Brazilian will guide your decision on whether to invest in permanent results or to continue waxing. If you can't image ever wearing a swimsuit or lingerie without a Brazilian, investing in laser hair removal might be the solution, and alternative, to waxing that you've always wished you always had.
And men, we're talking to you, too. For the same reasons many men choose to get laser hair removal on their chests and backs, the same applies to the pubic region. If you've ever nicked an "un-nickable part" then laser hair removal in the pubic area is way to avoid the possibility or ever doing that again.
A fair share of athletes and bodybuilders come to Monterey Laser & Skin Care for laser hair removal in private regions so that they are always competition ready. However, don't tan prior to your appointment because lasers target darker areas and a tan can throw off those targets.
In the end, Brazilian laser hair removal is a lifestyle and aesthetic choice, and one that is more common than you might think, and it is one of our most requested services. Whether you remove all pubic hair for a smooth, clean appearance or choose a version of it such as a Brazilian with stripe (all hair removed but leaving stripe of hair), Brazilian with triangle (all hair removed but leaving a triangle of hair) or a custom Brazilian with a design of your choice.
Brazilian laser hair removal is a safe, permanent way to get a smooth pubic area, free of the pain and irritation that comes from waxing. It gives you the confidence of never worrying about how you look "down there" or planning around your waxing appointments. Plus, you decide how much or how little of the hair is permanently removed from your genital region.
Schedule an appointment with us at Monterey Laser & Skin Care to learn more about the Brazilian laser hair removal, and say goodbye to waxing forever.